Even if you're the boss, telling people what to do just doesn't work anymore. Simply directing a team to do something may still be one of the most common leadership styles, but leading by authority often falls short in today's egalitarian workplace.
Whether it's your family, your division, or your Tencap tennis team, getting someone to switch from "I have to" to "I want to" is the universal challenge for any leader,of any team. That's going from information to influence.
Ben and Kelly Decker have studied hundreds of startups, nonprofits, and Fortune 500 companies as part of their training and consulting practice atDecker Communications and they've created what they call The Communicator's Roadmap. Here's what it looks like: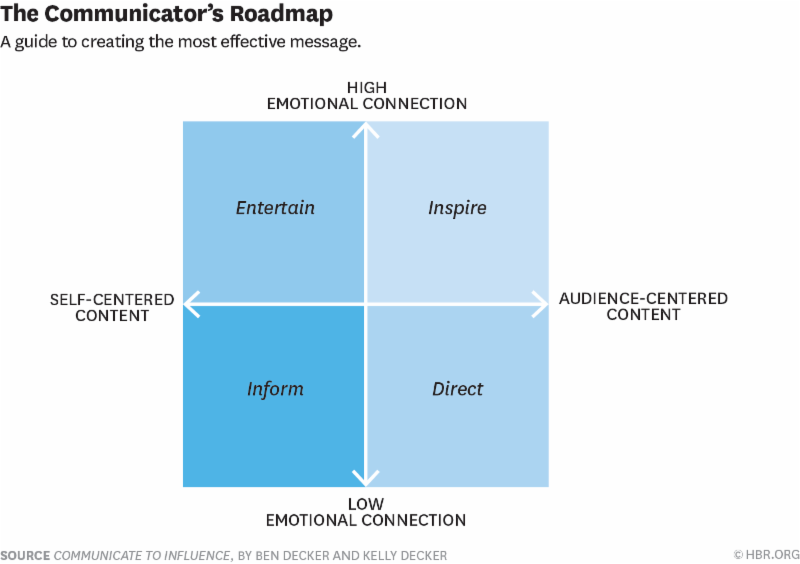 Most of us default to Inform and Direct as a way to communicate goals and get things done. That's okay but it doesn't work long-term for retaining and motivating top talent.
Inspiration is where we have to be in order to get really big things done. Painting a vision for future success is what inspires and persuades.
Emotions drive our actions. Engaging the right emotions at the right time is what inspires us to act. The Deckers sum up the basics and benefits nicely:
Being a leader who persuades others through inspiration starts with connection. Greater empathy and relevance leads to growth, increased motivation, faster action, and real results. Use the Communicator's Roadmap before your next meeting with your direct report to create an experience that will shift his response from "Sure, I can do that…" to "Count me in!"
Have a great week.
Kindest regards,
P.S. Stop stressing about what to say and what to write. Simplify your marketing and sales tools. Make your customers and clients the centerpiece of your marketing. If you need help with your customer case studies and success stories, get in touch with us by replying to this email. We can set up a friendly phone call to discuss the possibilities. And feel free to share this note with others. If you're not already on our list, please join us! You can sign up here.
Sign up for The Sunday Snippet!
Good ideas to help you prosper delivered fresh each Sunday morning.