The internationally-acclaimed COO of Facebook, Sheryl Sandberg, may be the best-known champion of women executives in the world, but author and women's business coach Tara Mohr is making significant contributions to the cause as well.
Mohr's book "Playing Big:  Find Your Voice, Your Mission, and Your Message" is about the tools she's used with thousands of women to help them take big steps forward in their lives and careers.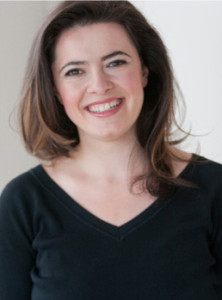 Mohr maintains that many women feel they "aren't ready" to take on that next bigger role. The inner critic can be a powerful and inhibiting voice inside, and Mohr has developed some useful advice for breaking the cycle of self-limiting beliefs.
Here are Mohr's ten principles that can help women (and men, too) own their brilliance and bring it to the world:
1 Make a pact. No one else is going to build the life you want for you. This is your game. Make a pact to be in it with yourself for the long haul, as your own supportive friend at every step along the way.
2 Imagine it. What does a knock-the-ball-out-of-the-park life look like for you? Start envisioning it. That's the beginning of having it.
3 Gasp. Start doing things that make you gasp and get the adrenalin flowing. Go for the gasps and learn how false your inner critic's narrative really is, and how conquerable your fears.
4 Get a thick skin. If you take risks, sometimes you'll get a standing ovation, and sometimes, people will throw tomatoes. Work on letting go of needing to be liked and needing to be universally known as "a nice person."
5 Be an arrogant idiot. Of course I know you won't, because you never could. But please, just be a little more of an arrogant idiot. You know those guys around the office who share their opinions without thinking, who rally everyone around their big, (often unformed) ideas? Be more like them. Even if just a bit. You can afford to move a few inches in that direction.
6 Question the voice that says "I'm not ready yet." Jump in the sandbox now, and start playing full out. Find out just how ready you are.
7 Don't wait for your Oscar. Don't wait to be praised, anointed, or validated.
8 Filter advice. Most brilliant women are humble and open to guidance. Some people will find you to be not their cup of tea. Some will feel threatened. So interpret feedback carefully. Test advice and evaluate the results, rather than following it wholesale.
9 Recover and restore. If you start doing the things that make you gasp, doing what you don't quite feel ready to do, and being more of an arrogant idiot, you are going to be stretching out of our comfort zone–a lot. Regularly do things that feel safe, cozy, and restorative.
10 Let other women know they are brilliant. Let them know what kind of brilliance you see, and why it's so special. Call them into greater leadership and action. Let them know that they are ready.
In the spirit of rule #10, I'd like to celebrate the dedicated and talented women in my family:  Sarah Jane, Tessa, Jane, Bernie, Mimi, Dee, Lori, Tara, SallieBen, Nikki, Kate, Madeline, Ella, Rhonda, Nicole, Lynette, Ashley, Zuzu, Scarlett, Blakely, Demi, Monica, Deb, Suzanne, and Kristin.
You are brilliant and you are ready.
Have a great week.
Sign up for The Sunday Snippet!
Good ideas to help you prosper delivered fresh each Sunday morning.