Deadlines stir fear and agita in the bravest among us. We schedule them, we change them, and sometimes we even blow right through them.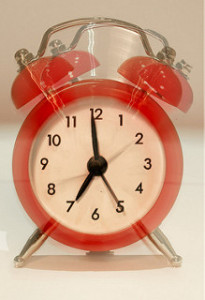 And while deadlines may not be our favorites, there are good reasons to embrace them.
Deadlines turn promises into products. They make goals real, and they drive forward progress. They help us ship, and as Steve Jobs liked to say, "Real artists ship."
Jason Fried, co-founder of Basecamp, describes the value of deadlines and his coping strategies:
"The key to making deadlines work in your favor is realizing that you have to be flexible with something else. The best thing to bend is scope. A fixed deadline and a flexible scope are the crucial combination. Get to know that pair, and play them together, and you'll discover the secret to shipping."
There's always a new idea to pursue. There's always adjustments that can be made. There's always something you can make better. There's always a reason to push a deadline.
But resist the urge to change it. Work like mad to meet it.
Creativity, persistence and execution are critical for a successful journey, but it's the deadline that ensures we reach our destination.
Have a great week.
Sign up for The Sunday Snippet!
Good ideas to help you prosper delivered fresh each Sunday morning.